AIZU AREA SPECIALTIES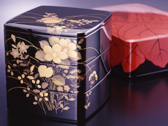 AIZU LACQUERWARE

In 1590 Mr. Gamo was lord of the township, and he brought the craft of wood turning and lacquer to Aizu. During the Edo Period with improved techniques in gold leaf and powder etc., the area became a leading producer of lacquerware. It is something wonderful to experience in Aizu.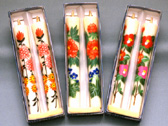 AIZU PAINTED CANDLES

Prized by the Samurai class, these luxury candles are painted with images of chrysanthemums, peonies and flowering plum trees and were used as a kind of votive candle at weddings. Handmade one-by-one, today they are cheerful mementos of Aizuwakamatsu City, where there is also a place to experience painting them yourself.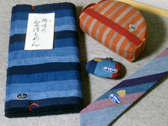 AIZU COTTON CRAFTS (Aizu-momen)

When Kato Yoshiaki moved to Aizu in 1627, a cloth maker in Iyo Matsuyama demonstrated this craft. It is said to be the origin of Aizu-Momen, which is characterized by vivid colors and stripes. Here you can try your hand at making some yourself.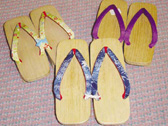 AIZU PAULOWNIA GOODS

Products made from paulownia wood, like geta sandals, chests of drawers etc., are praised for their use of its beautiful grain. This paulownia is considered to be the highest-quality for the koto in Japan.
POTTERY AND CERAMIC GOODS

Traditional pottery of Aizu has a rustic character. You can also enjoy making some yourself.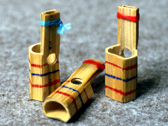 HATSUNE FLUTES

In the old days on New Year's Day, parents bought these bamboo flutes for their children and for the next three months kept them on the home shrine. They make two sounds, ho (low sound) and kekyo (higher). Recently children have stopped playing the hatsune.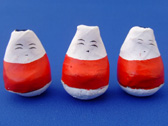 OKIAGARI -KOBOSHI (ROLY-POLY FIGURES)

Their ability to get knocked over and get back up on their own makes them a symbol of tenacity, good luck and health. It is believed that if you buy more than one, your prosperity will increase even more. In Aizu-Wakamatsu City they are sold on the first market day of the new year and are indispensable bearers of good fortune. It is said that about 400 years ago Mr. Gamo of Aizu Clan let untitled workers make them and sell them at the beginning of the year. You can make them yourself!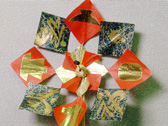 PINWHEELS

The vanes are attached to beans in the center (beans equal well-being and diligence; this is the wishful meaning of this pinwheel going round and round.) They bring good luck on New Year's Day. You can enjoy making them yourself.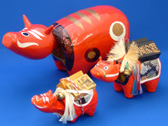 AKABEKO FIGURINES

This traditional Aizu paper-mache toy is said to have originated during the Heian Period, and it continues to be quite popular as a lucky charm of Yakuyoke. It amuses us by shaking and swinging its head like a bobble-head cow. Beko are the cattle of Aizu. There is also a classroom experience.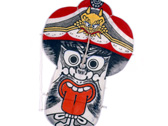 AIZU TOJIN KITE

This "Berokun dashi" means "sticking out the tongue" in Aizu. It is said that during the Boshin War and the siege of Tsuruga Castle, kites were used as a way to encourage and lift the morale of the people holding the castle. How about making your own kite? There are hands-on experience classes.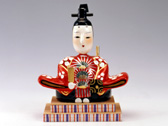 AIZU TENJIN FIGURINE

Tenjin is the god of learning, and it is hoped that this traditional toy will stimulate growth in this area for children. Previously the body was made of papier-mache and the head of clay-like material, but today the entire figure is paper. The face has a bit of refined Kyoto style to it.