About fukushima
AREA, POPULATION, AND LOCATION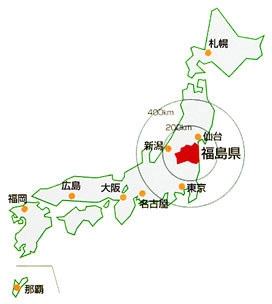 Fukushima is the southern-most prefecture in the Tohoku Region, and is located roughly 200 kilometers north-east of Tokyo. As of October 1, 2008 it had a population of 2,055,496. It is 13,782 square kilometers in area, making it the third largest prefecture in the country, after Hokkaido and Iwate.

---
CLIMATE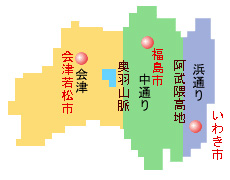 The Abukuma highlands and mountain ranges divide Fukushima into three sections running north to south; these are known as Aizu in the west, Naka-dori (middle) and Hama-dori (the beach and seaside area). Although they are in the same prefecture, the climate varies greatly, especially in rural areas. In the mid-section in the summer, the mountainous areas are not so hot, but the great bowl of the plains can become extremely hot and humid. There is much snow in the winter. Likewise, the Aizu area with the climate of the Japan Sea can be cooler in the mountains but very hot and humid in the plains
On the lee side of the mountains we have the Pacific Ocean climate, leaving the snow and lower temperatures, but bringing more rain during the rainy season and autumn. On the other side hand, there are cool ocean breezes in the summer, even cooling the beaches and in the winter the ocean side is warmer than most of the prefecture, with less snow.


---
HOW THE PREFECTURE GOT ITS NAME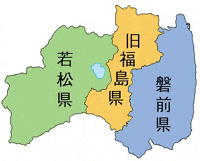 1.In 1876, what was then Wakamatsu Prefecture merged with Iwasaki and Fukushima. The name Fukushima is taken from Fukushima which was the capitol at that time and was called that for the first time in 1593 (Bunroku 2) by Kiyoshi Yoshi Kimura who had a castle there. But we don't have a more detailed history of the origin.
From "The Illustrated History of Fukushima"

2.At first, long ago, the center of the Fukushima area was known as Shinobu No Sato No Suginome Sato, and had the Abuku River running through it. In 1413 Lord Date Mochimune built his castle, Daibutsujo, which became a symbol of Fukushima Town, and this became "Date's Domain," and gradually he came into control of all the Aizu and Naka-dori areas. In 1590 (Tensho 18), he was driven north by Hideyoshi Toyotomi. After Hideyoshi, who had confidence in Gamo Ujisato, became the ruler of Aizu and lived in Aizu's Kurokawa Castle with Suginome Castle as an outpost, he changed the name from Kurokawa Castle to Wakamatsu Castle, and Suginome Castle to Fukushima, with the meaning of a "Island of well-being".
Using as a reference the traditional story, "Shinobu Date Fudoki", we learn moreover that in the very distant past Shinobu County was an area that was almost entirely lake, with Shinobu Mountain in the middle. The cold wind blew (fuku) relentlessly down from Mt. Azuma over the lake and island which became Fukushima Azuma. After many years the lake evaporated and villages sprang up. The inhabitants resented the reference to blowing chilly winds in the area's name and changed the character to the modern Fukushima, the "Island of Well-being." At least according to "Shinobu Date Fudoki."